Authentic culture meets modern design, this place is hip and swanky. I visited the property with a girlfriend and we had a blast! It was the perfect girls getaway and we couldn't stop talking about coming back with a big group of friends. We also ran into a lot of honeymooners and other couples there. I think this is a great spot for people who are social and are looking for more of a "scene" but nothing too rowdy.
BOOK YOUR STAY WITH US TO VIP YOUR TRIP!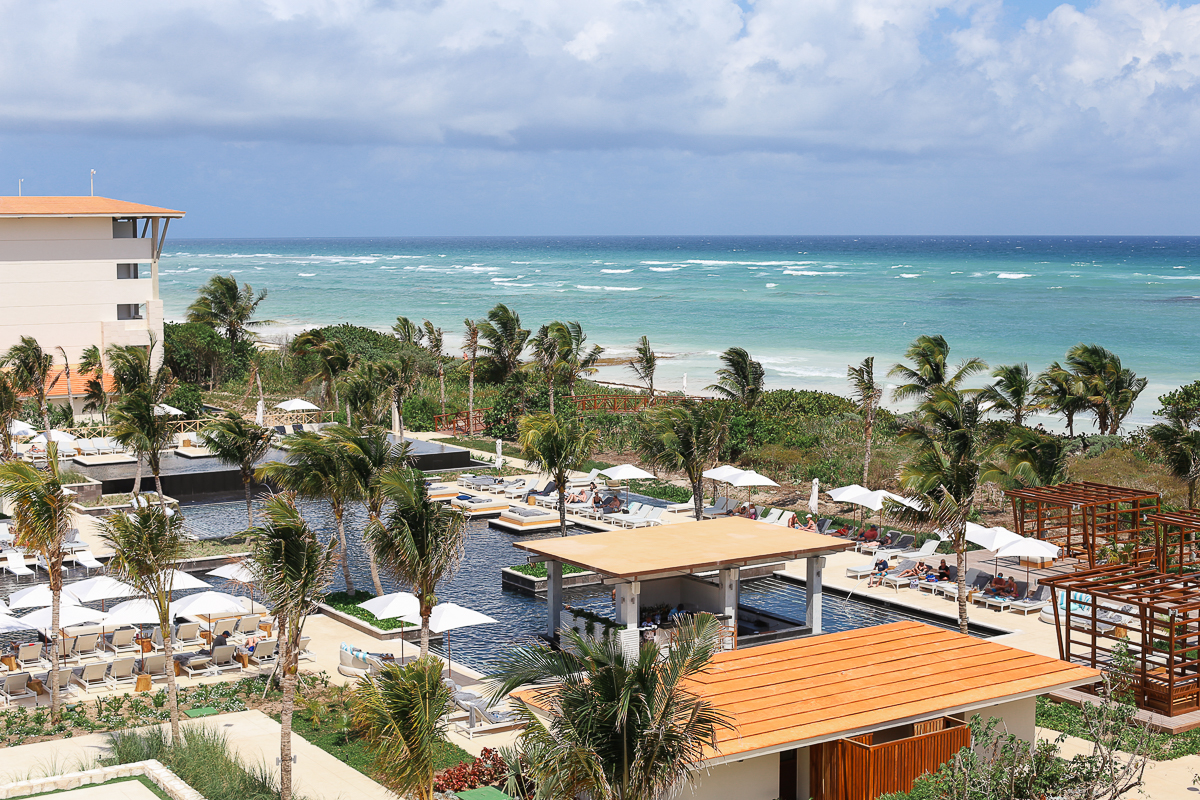 ROOMS: The decor blends mid-century modern design with Mayan culture. There are several different room categories, but all of them are very spacious with naturally sourced materials. The ground floor rooms have swim-out pools and all of the balcony rooms have outdoor hydro spa tubs. My favorite room is the Alcoba Oceanfront, with panoramic views of the ocean.
POOL & GYM: There are three are pools on property. The two at the entrance of the resort are more lively with music and activities. The third is the "quiet pool" - tucked away on the side of the resort offering a more peaceful and relaxing environment.
SPA: The spa has a wide range of treatments with locally-inspired beauty rituals. There is also a salon on site as well as an indoor-outdoor hydrotherapy facility. Select treatments are available for just a 20% service fee.
RESTAURANT: Don't let "all-inclusive" scare you away here. They made no sacrifices when it came to the food and drink menu - everything is top-notch. There are four restaurants on property, all with very different styles. 2087 has a casual beach-side vibe, serving breakfast, lunch and dinner. My favorite dinner was sushi at Mura House but I also really liked the Italian food at Mi Carasa and Mexican at Cuvea Siete.
BAR: There are several bars on property, but the Palmera Lounge is my favorite. It mimics the Cuban cocktail clubs of the 1940s with craft cocktails, live entertainment, and a cigar bar.
KIDS: No kids allowed, but it would be a great trip for a family of adults.
GETTING THERE: The resort is about an hour from the Cancun Airport, between Playa Del Carmen and Tulum. The name comes from the coordinates of where the resort is located, 20 degrees north and 87 degrees west